Design from Finland Mark has been granted to Optomed Aurora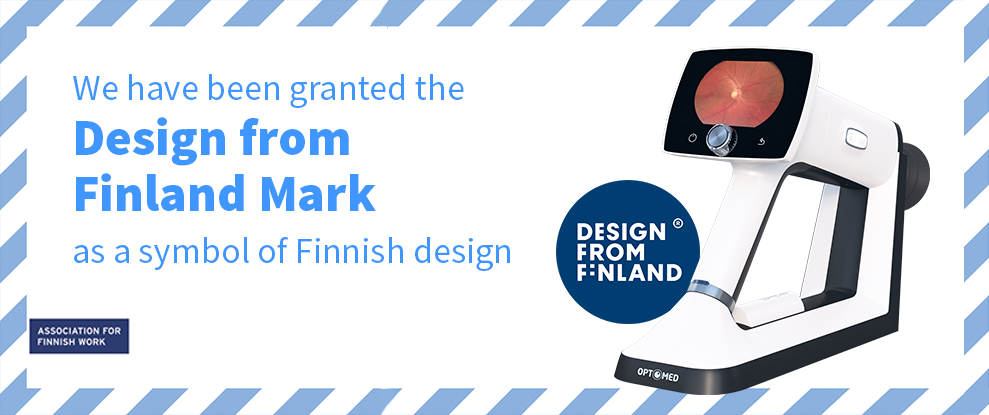 PRESS RELEASE Design from Finland Mark have been granted to Optomed Aurora, read more in finnish below:
Optomed Oy:n tuotteelle on myönnetty Design from Finland -merkki
Tiedote: Suomalaisen Työn Liitto

Oululaisen Optomed Oy:n Optomed Aurora -silmänpohjakameralle on myönnetty Design from Finland -merkki. Optomed Auroran muotoilussa on keskitytty erityisesti käyttäjäkokemuksen parantamiseen. Kameran ergonomiaan on kiinnitetty huomiota esimerkiksi kahvan muotoilussa, materiaalivalinnoissa ja katselukulman määrittämisessä. Kameran uusi ilme ja muotoilu ovat väritykseltään raikkaat ja graafiset elementit selkeän pelkistettyjä.
– Olemme saaneet käyttäjiltä ensiarvoisen tärkeää palautetta, johon uuden kameran muotoilussa on kiinnitetty erityistä huomiota. Fyysinen ja graafinen käyttöliittymä on myös täysin uudenlainen Optomed Aurorassa. Kamera kulkee usein käyttäjien matkassa kuvauskohteeseen ja siksi olemme suunnitelleet kameralle myös uudentyyppisen kuljetussalkun, jossa sekä käyttäjän erityistarpeet että kameran kestävyys ovat olleet keskiössä, sanoo Optomedin muotoilujohtaja Alpo Keinänen.
Suomalaisen Työn Liiton Design from Finland -merkki voidaan myöntää tuotteelle, tuoteryhmälle tai palvelulle, joka edustaa suomalaista muotoiluosaamista parhaimmillaan. Merkki kertoo, että yritys on investoinut ammattimaiseen muotoiluun ja saavuttanut liiketoiminnallista hyötyä muotoilun avulla. Käyttäjälähtöisyys on myös ensisijainen vaatimus merkin saamiseksi.
 – Designin merkitys Suomen kansantaloudelle ja kilpailukyvylle on erittäin suuri ja kasvaa koko ajan. Designia voi ja pitäisi hyödyntää alalla kuin alalla.
Myös designin rooli moninaistuu. Korkeankin teknologian tuotteissa muotoilulla saavutetaan lisäarvoa, kuten entistäkin käyttäjälähtöisempi lopputulos, joka alkaa olla edellytys tuotteen kaupalliselle menestykselle, kertoo Brand Manager Johanna Lahti Suomalaisen Työn Liitosta.
– Design from Finland on vahva tunnustus suomalaisesta muotoiluosaamisesta teknisellä toimialalla, jossa tarjoamme innovatiivisia silmän kuvantamiseen liittyviä ratkaisuja kliinikoiden ja terveydenhoitoalan ammattilaisten käyttöön ympäri maailmaa. Suomalainen design on maailmalla kilpailuetu ja se koetaan turvalliseksi, laadukkaaksi ja positiivisesti erottuvaksi. Design ja suomalaisuus ovat helpon käytettävyyden, teknologisten ratkaisujen ja kumppaniverkostomme lisäksi Optomedin selkeitä kilpailuetuja. Strategiamme on tarjota kaikkein tehokkaimpia kuvantamisratkaisuja sokeuttavien silmäsairauksien seulontaan, diagnoosiin ja seurantaan, sanoo Optomedin myynti- ja markkinointijohtaja Kristo Kivilaakso.
– Suomi on korkean osaamisen maa, jonka kilpailuvaltti on nimenomaan aineettoman, korkean osaamisen töissä. Perinteinen teollisuus parantaisi asemaansa globaaleilla markkinoilla valtavasti, jos se panostaisi vielä vahvemmin muotoiluun. Arvoketjut ovat muotoutumassa uudestaan, ja lisäarvoa voidaan luoda nimenomaan muotoilulla, Lahti jatkaa.
Suomalaisen Työn Liitto on asiantuntijaorganisaatio, jonka tehtävänä on edistää suomalaisen työn arvostusta ja menestystä. Liitto hallinnoi suomalaisen työn puolesta toimivia merkkejä ja verkkopalveluita. Design from Finland -merkki viestii suomalaisen, ainutlaatuisen muotoilun alkuperästä. Merkki kertoo edelläkävijäyritysten panostuksesta suomalaiseen muotoiluun osana yrityksen liiketoimintaa ja menestystä. Käyttäjälähtöisyys on merkinhaltijatuotteissa keskiössä. www.suomalainentyo.fi, www.designfromfinland.com